Not a school, college or university, but still offer educational services?
Date: 13th Dec 2021 By: Sarah Darvelle length: Tags: Beginner
We have many non-academic institutions such as councils, museums, art galleries, libraries and even London Zoo recently joining our portfolio of 8,000+ member strong community. We offer our members frameworks such as Employee Screening Services, PPE Clothing and Uniforms, Electronic Office Consumables, AV and IT and many more, with 17 of them being recommended by the DfE. You can see what frameworks we can offer by clicking here.
Our frameworks have proven to be very popular with organisations such as;
National Museums Liverpool
Kew Royal Botanical Gardens
The Royal Society of Medicine and
The Donkey Sanctuary
Our museum members alone have spent £2,050,533,54 (so over 2 million!) by using 75 suppliers from CPC frameworks.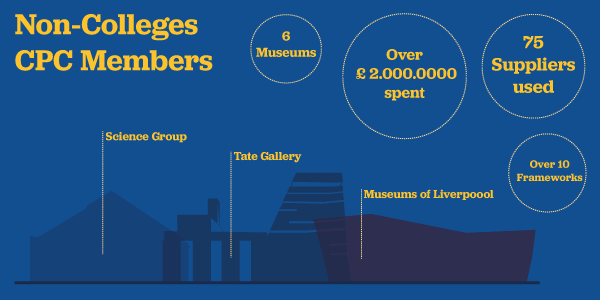 Benefits of using CPC frameworks
Becoming a member of the CPC provide you with many benefits including;
Access to 90+ professionally arranged framework agreements from over 1100 fully vetted suppliers covering a wide range of goods and services
Permanently free membership (no cost, hidden or otherwise, to join)
Free monthly members' newsletter
Transparent, auditable purchasing processes and full compliance with procurement regulations
CIPs qualified Procurement professionals available for advice and guidance
Access to free helpdesk
Access to free e-procurement tools, including CPC's own quote tool
Access to a full suite of framework-specific templates and user guides
Comprehensive and easy-to-use consortium website
Free networking communicator to enable you to speak with other members
Free access to Procurement and Estates networking groups
Proven value for money on all arrangements
Free benchmarking
Access to CPL Group funding to help fund student activities, events and resources at your institution
Our members have achieved some fantastic benefits over the years through using our frameworks. Read one of our testimonials below.
"At first, the prospect of sourcing PPE during the middle of a pandemic and at the same time as many other businesses seemed a daunting one. However, the CPC PPE framework made it easy for us to source the PPE we needed at the right price and crucially at the right quality. Suppliers were responsive with pricing and quality information and this made it simple to source the correct product. I would certainly use the framework again." Declan McAlister, Head of Procurement at Tate Galleries
By becoming a member and using our services, you are helping to support our education-owned charity CPL Group, which we are a part of and which gives back to the education sector by funding projects which enhance teaching and learning across our member base. These projects include a range of student events, activities and learning resources as well as fully funded procurement training available to members.
If you're a similar type of organisation providing or managing educational services, you may qualify to become a CPC member , allowing you to start saving time and money on your organisation's procurement activities. To find out if you're eligible to join our membership, please contact helpdesk on [email protected] or 0800 066 2188