---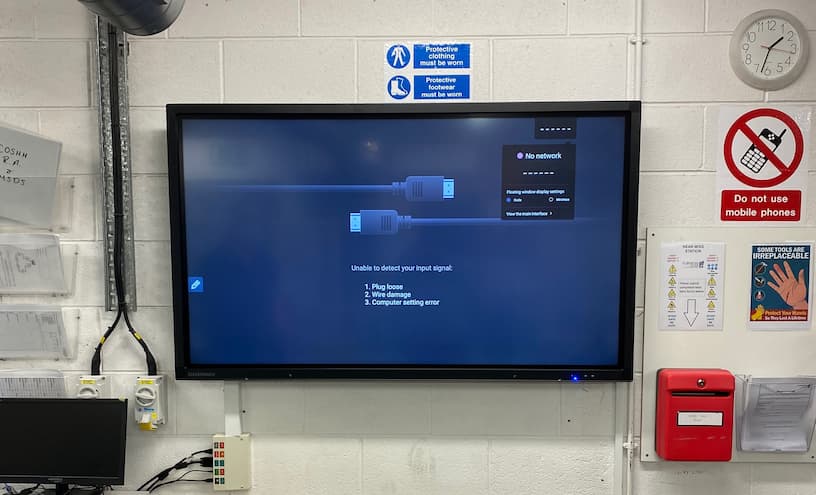 The screens were installed against the walls to allow tutors to show course material to students without additional trailing cables which could be hazardous in a workshop environment.
This was the first time they had used this framework and the college benefited from a quick and easy tender process saving them time and money. They were also reintroduced to a supplier who the college hadn't used for a long time.
Quick and easy tender process
The framework saved the college time in searching for a suitable supplier as using the CPC Quote Tool meant there was no requirement for them to complete a full tender process or individually identify and contact suppliers to gain quotes.
The college just needed to input their requirements once on the CPC website and then the Quote Tool sent the request out to all suppliers on the framework's lot on their behalf. The interested suppliers then submitted their offering to the college via email for their review and selection.
Cost savings
The college found the equipment and installation costs to be cheaper in comparison to previous quotes received outside of this framework. The framework being a collaborative agreement, enabled the college to benefit from low-priced quotes this time around due to the consolidated spend across all members.
Reigniting supplier relationships
Using this framework enabled the college to be reintroduced to Roche Audio Visual, a supplier who they hadn't used in a long time. Roche offered the best quote for the college's AV equipment requirements.
The framework agreement is contract managed centrally by CPC with KPI's in place and 'Call off Terms' written to the benefit of members rather than agreements being based on suppliers' terms and conditions, which may be less favourable. This made the appointment of the winning company, Roche Audio Visual, feel very reassuring for the college.
Overall experience
Furness College had a very positive experience using CPC's Audio Visual Equipment and Installation services framework and the CPC Quote Tool. When asked whether they would use the framework again, Darren Stevens, IT Manager at Furness College said:
"I had a few questions along the way and the email and phone support of the Category Manager was excellent. The framework is a well supported system which provides reassurance when engaging with external suppliers. We would definitely use the framework again for any quotes of this nature."
---
Jane Edwards, CPC's Category Manager for AV and ICT said:
"I am glad Darren found the process and support provided useful and that he achieved the required outcome."